PLEASE NOTE: ALL FACE TO FACE SESSIONS ARE CANCELLED UNTIL FURTHER NOTICE
C4L @ HOME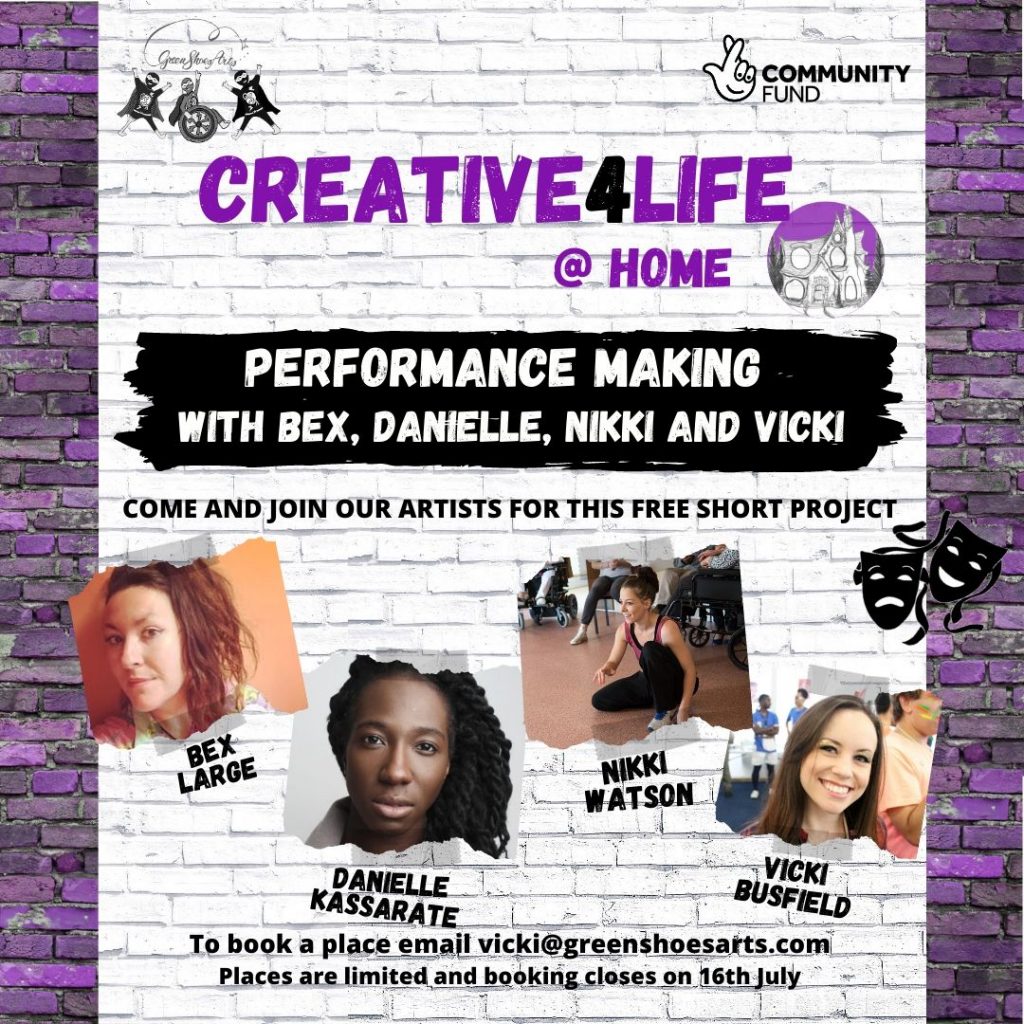 We are really excited to announce the second of three of our short adult courses that we are running throughout July!!
'Creative 4 Life's' second from-home course is "Performance Making" with the brilliant Bex, Danielle, Nikki and Vicki. This will take place on Monday 20th, Tuesday 21st, and Friday 24th July.
If you have been feeling isolated, lonely or have been struggling with your mental health issues book a space on this new & exciting free course! If you'd like more information email vicki@greenshoesarts.com – hurry as places are limited

ABOUT
Creative for Life, funded by National Lottery Community Fund, is our flagship adult project. We run weekly workshops in a variety of art forms for people living with mental health concerns. Previous sessions have included: Mosaics; Song-writing; Drama.
Currently, we have three sessions running on a weekly basis at Chadwell Heath Community Centre. These are:
PERFORMANCE (Tuesdays, 9.30-11.30am) Fusing music, drama, spoken word, dance and other performance-based art forms, this relaxed and fun session brings people together to express themselves with their bodies and movement
VISUAL ARTS (Wednesdays, 12.30-2.30pm) This session covers a variety of creative techniques including drawing, painting, sculpting and more. Learn new skills, or work on your own personal projects all whilst making new friends
CREATIVE WRITING (Thursdays, 11.30am-1.30pm) Personal and group writing projects based around prompts and inspiration, covering poetry, story-telling, scripts and more
All of our sessions are free to attend. If you or someone you know could benefit from coming to our sessions, give Steve an email at admin@greenshoesarts.com, or call us on 0208 593 2595
All of our Creative for Life sessions are made possible by a grant from the National Lottery Community Fund.