Welcome to our Mental Health Resources page. Green Shoes specialise in using art to help people who have lived experience of mental health problems. Here, you will find a host of national and local resources to help inform yourself and find the help you need at times of crisis. Take a look around!
What is Mental Health?
Mental health is often referred to as your emotional health or your well-being.
Your mental health is just as important as your physical health. Everybody can experience mental health problems in their own way. They can be developed at different times in your life and for many reasons. Click the link to discover certain causes of mental health issues.
https://www.mind.org.uk/information-support/types-of-mental-health-problems/mental-health-problems-introduction/causes/
First Steps
If you are concerned about your mental health your first stop should be your Doctor. They know your medical history and can help you to decide what kind of support and treatment you need.
Don't feel worried about going to your doctor. They are there to help with your mental health as well as your physical health, so if you are feeling anxious or depressed, they will be able to help you.
Talk about it!
It is important to make sure other people know that you are having concerns about yourself. If you don't feel like there is anyone close to you that you can talk to, why not try one of these organisations:
a) Your doctor
b) Family or friends
c) Barking and Dagenham LBBD – https://www.lbbd.gov.uk/mental-health
d) MIND – Mental Health Charity. https://www.mind.org.uk/information-support/helplines/
e) NELFT – Community and Mental Health Services. https://www.nelft.nhs.uk/contact-us
If you currently receive a service from a team at NELFT, such as a local community mental health team or a psychiatrist, then make contact with them as soon as you can. It may be helpful to refer to your care plan, which should have details of who to contact in an emergency.
If it is out of office hours or you don't know who to contact, you should call NELFT Mental health direct.
If you live in Barking and Dagenham, Havering, Redbridge, Waltham Forest, Essex, Kent & Medway, you can call for mental health help and advice anytime of the day or night.
NELFT Mental Health Direct: 0300 555 1000
We can arrange for you to speak with a mental health professional. We can also advise you about what service to contact to get the support you need.
Calls from a BT landline are the cost of a local call. Calls from other landlines and mobile providers will vary and may cost more.
f) Freephone Support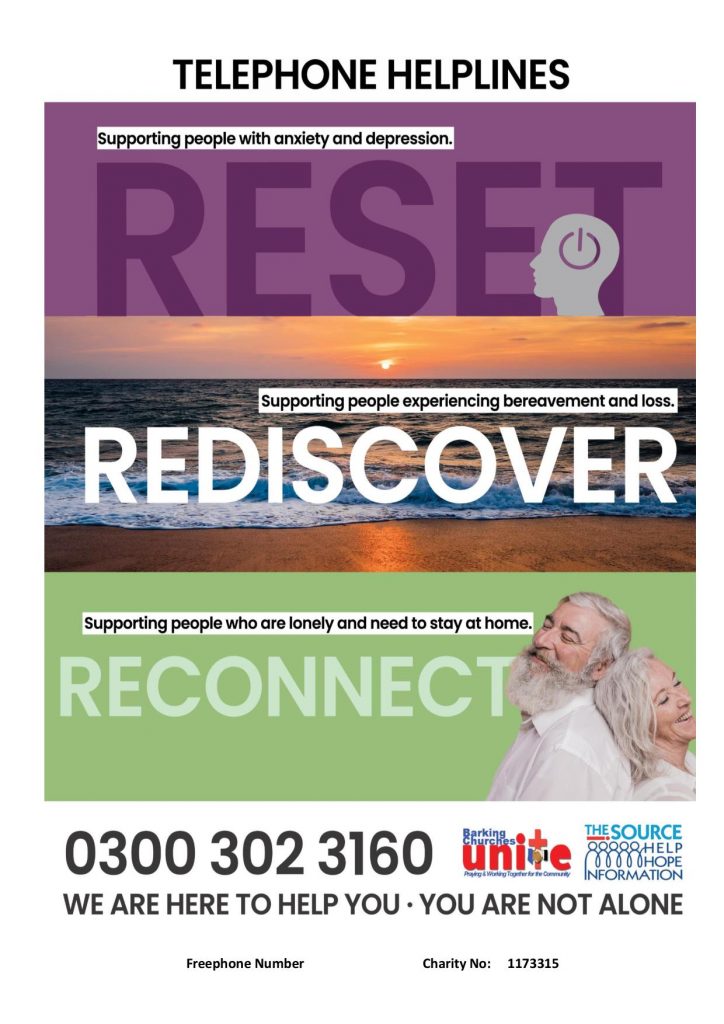 g) The Samaritans – Emotional support charity. https://www.samaritans.org/how-we-can-help/contact-samaritan/
h) The Source Barking and Dagenham
The Source, a local community group, are running 3 telephone helplines to help people: supporting people with anxiety and depression; supporting people experiencing bereavement and loss; and supporting people are who are lonely or who would just like someone to speak to. The helplines are operated by trained volunteers, supported by professionals. You can call 0300 302 3160 to access this support.
Keeping Busy
There is lots you can do to keep busy and distract yourself if you are in a crisis. You could:
a) Start a new hobby. This can help focus your mind on something new and productive. Here's examples of activities you could do to help with self care:
Drama
Dance
Art
Writing
Photography
Walking/running
Gardening
b) Keep a mood diary
c) Get enough sleep
d) Keep a healthy diet
More information on this can be found here.